Accelerate by doing
In the slipstream of the Dutch GP F1 2020, a unique event will take place on June 8th and 9th in cooperation with Circuitpark Zandvoort and Jan Lammers: The Xtreme Agile Masters.
The Extreme Agile Masters will learn you how to use the latest Agile and Lean insights to drastically reduce your time-to-market. You will learn how to improve the quality of your products, motivate teams and accelerate innovation.
Continuous Integration
From the training in the Redbull F1 lounge , you'll immediately put what you've learned into practice. In the adjacent F1 pitbox you work in build parties during breakout sessions on the famous Wikispeed car.  In a final "Flying lap" you will experience speed, grip and flow with a professional driver and race car on the new circuit of the Dutch GP F1 2020!
Read more
Even without any technical or Scrum knowledge, you are able to participate in a special CSM® training and Xtreme Agile® workshop constructing the first Agile concept race car in the world: the WikiSpeed SGT-01!
Exclusive Keynote Jan Lammers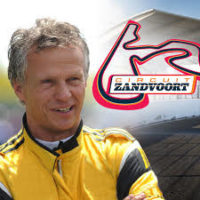 Dutch F1 legend and the current Sporting Director Formula 1 Heineken Dutch GP Jan Lammers will share his experiences with you during a special interactive session. In this special session you will also receive extra knowledge and information about acceleration, flow, grip and continuous improvement. Crucial elements to be successful as a driver on an F1 circuit and in business.
About the Xtreme Agile Trainers
Joe Justice and Paul Takken have been working closely together for many years in the field of technological and sustainable innovation. Starting in the garage of his house in Seattle, Joe built the WikiSpeed car for The XPRIZE within three months. With this, Team WikiSpeed has broken all conventions of building cars. Meanwhile, this Xtreme Manufacturing method and mindset has been successfully applied by Joe and Paul to a large number of world players.
Read more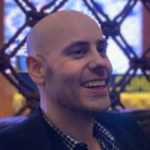 Joe Justice works globally as an interim executive for agile organizations, bringing multinational companies increased return on capital. His teams have held 4 world records. He is a TEDx speaker, guest lecturer at both MIT and Oxford University in England, featured in Forbes, the subject of a Discovery Channel mini-documentary for his work creating the disciplines Extreme Manufacturing, Scrum@Hardware, The Justice Method, and has worked directly for 6 years with the co-creator of Scrum, Dr. Jeff Sutherland
Joe has worked with autonomous and smart road technologies, ultra-lightweight structures, guest lectured at UC Berkeley, MIT, on behalf of Carnegie Melon, CU Denver, The University of Washington, spoken at Google, Microsoft, Zynga, Lockheed Martin, HP Labs, The Royal Bank of Canada, Pictet bank, and others. Joe's work has been featured in Forbes, Harvard Business Review, CNN Money, the Discovery Channel, and others.
Paul Takken is the founder of AgileWerk, keynote speaker, accelerator and Agile innovation expert. He has been closely involved in the implementation of company-wide 'agile transformations' at ING Bank, TomTom and several brands within the German automotive industry. Paul has also been coaching startups at TU Delft's D:Dreamhal. for many years.
Paul is known worldwide for his vision and contribution to sustainable Agile transformations and acceleration of innovation. He has contributed to a number of leading conferences such as Scrum.inc Interaction 2019 Tokyo with dr. Jeff Sutherland and professor Nonaka and publications, including the Harvard Business Review.
After the Xtreme Agile Masters, you'll be able to:
✓ Integrate Agile, Lean and Scrum in different and unusual environments
✓ Improve the performance of your team(s) with Xtreme Agile and Scrum
✓  Minimize risks in your projects
Read more
✓ Loading Agile leadership from inspiration and performance (energy)
✓ Start up Agile (Scrum) teams and measure their success
✓ Implement the principles of Xtreme Agile and Manufacturing in your organization
✓ Demonstrably and continuously improve quality and performance (Agile metrics)


✓ Certificate Xtreme Agile Master® from WikiSpeed
✓ Additional for non-CSM certified participants: CSM® certificate from the Scrum Alliance (online exam)
Xtreme Agile Masters Backlog (2-days)
Day 1 and 2: Certified Agile Scrum Master Training
End of Day 1: Keynote session with Jan Lammers & more
During the course: Build and Integration Breakout XM/XA-sessions on the WikiSpeed Car
End of Day 2: Flying Lap Experience with Bleekemolen Racing
Read more
Check-in
Team setup
Agenda, Safety and Workshop instructions
Definitions

What is Xtreme Agile and Manufacturing
What is difference with traditional project and production

Scrum in usual and unusual environments, an overview (by expert story telling)

Scrum principles – teams & empirical projects
Charter for Product Development (Agile Manifesto & Principles)
Scrum Framework & Values
Scrum Roles – overview

Scrum – Deep Dive into the Scrum Guide

Roles in detail
Artifacts with examples – product & sprint backlog, "shippable" product
Events in detail – adding refinement, estimating, prioritizing
Progress reporting – burn-down charts, taskboards, burn-up charts, budgets
Ready, Done, Shippable, Integration
Events with multiple teams – Sprint Planning, Scrum of Scrums, Review

Scrum – scaling to multiple teams

Chief Product Owner, Chief Scrum Master, stakeholder management and suppliers
Scaling Agile, Scrum of Scrums, brief overview of other frameworks
Defining and slicing Epics, Features and User Stories
Release Planning and Portfolio Management

Optional topics:

Deep dive into Agile Transformations
Breaking Patterns
Fit for Agile
eXtreme Engineering
Regulatory and other audits
Lean Product Development
Extending the Scrum framework
Future trends

Closing and Retrospective
The Value and Energy of our Buildparties
Read more

As experts we know the value of learning-by-doing.  Buildparties will give you the ultimate learning experience and show you how you can increase the speed to improve performance. You will be able to put directly into practice what you've learned, apply your insight and skills within your own your own area of expertise and inspire the people around you!
Who should join the Xtreme Agile Masters?
We believe that people are crucial for change to happen. By sharing our latest insights with leaders and experts across industries we challenge them beyond their own expectations. We empower them with the latest skills in conquering complex problems, improve team performance and increase employee engagement so they can develop meaningful products in a fast changing environment and transform the world we live in for the better.
✓ Leadership and Management
✓ Agile leaders and Experts
✓ Hard- and software engineers
Read more
✓ Consultants and Coaches
✓ Entrepreneurs
✓ For anyone who already works Agile and wants to get back to the essence
✓ If you would like to certify Scrum and Agile in a unique way
✓ For anyone who believes in his or her dreams and also has the courage to make them come true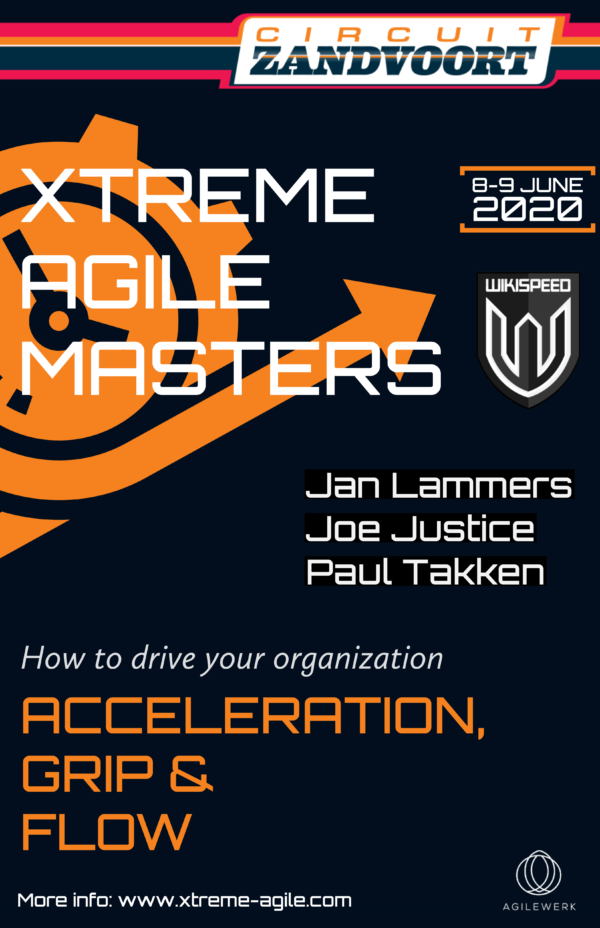 Speed Edition
limited
Redbull Lounge
Keynote & Interview Jan Lammers
Xtreme Agile Training & Breakouts
Certified Scrum Master Course
Redbull F1 Pitbox
WikiSpeed Carbuild Training
Zandvoort F1 Circuit
Flying Lap Xperience
Regular Edition
Redbull Lounge
Keynote & Interview Jan Lammers
Xtreme Agile Training & Breakouts
Certified Scrum Master Course
Redbull F1 Pitbox
WikiSpeed Carbuild Training
Zandvoort F1 Circuit
Virtual Race Simulator
Circuitpark Zandvoort
AgileWerk organizes the Xtreme Agile Masters in collaboration with Circuitpark Zandvoort. At this inspiring location, the  course and workshop will be held in the Redbull Lounge and pitboxes. During the training an excellent  choice of snacks, hot and cold drinks will be waiting for you. A healthy and extensive lunch will also be provided to ensure an optimal performance during the day.
Flying Lap Experience

During one of the breakouts you will get to know the brand new circuit by making a flying lap under the guidance of Bleekemolen Racing drivers. They will explain to you how to combine speed, grip and flow during a ride on the new F1 circuit.  The three most important aspects of Agile innovation.